Future-Proofed Closed Captioning
Empower Your Content with Next-Gen Tech
Download the Whitepaper to learn more
Closed Captioning Gets Future-Proofed
Ai-Media's services are world-leading in the closed captioning space. The company's tech is designed with the knowledge that the needs of every media company are different, and those needs change over time.
Download our whitepaper to discover how Ai-Media can empower your content with next-gen cloud solutions that simplify captioning. You'll learn how:
Our iCap Alta encoder helps save time and reduce costs with next-gen IP workflows

You can make live stream captioning simple with Ai-Media's Falcon cloud encoder

Ai-Media's range of automated and human captioning solutions deliver market-leading accuracy and cost-efficiency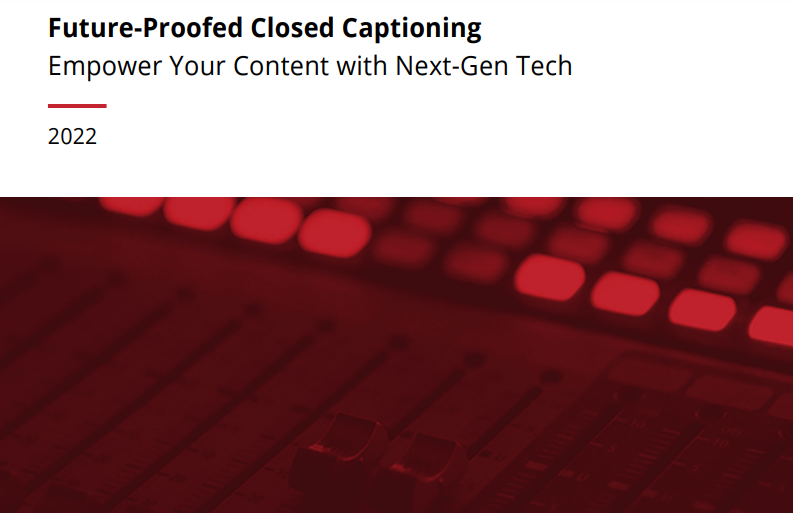 Since contracting Ai-Media in 2013, we have conducted quarterly third-party audits focusing on uptime and quality. The product is consistently of superior quality. Over the years, Ai-Media has worked openly and collaboratively with our organization and is a true partner to Nine.
Ai-Media's commitment to quality is reflected in the results of the audits which are conducted independently each quarter, and the transparency which their reports and regular communication provide.
We most often work with Ai-Media for our events at the United Nations. The Ai-Media team is available, responsive and punctual. Ai-Media's expert services provide an additional level of inclusion and access during our events, guaranteeing our entire audience's equal participation.